Plant Oil-Extracted Cosmetic Active Ingredient, BLUE Oléoactif® Wins Silver for Hallstar at in-cosmetics Latin America (September 2018)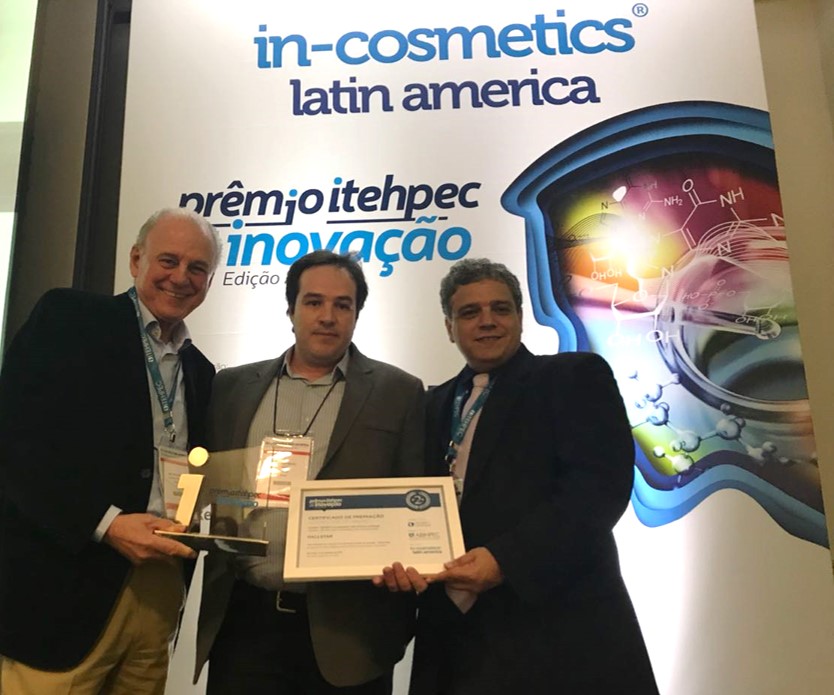 Hallstar, a specialty chemical company headquartered in Chicago, has been awarded the 2018 ITEHPEC Innovation Silver Prize for its anti-blue light, anti-pollution, eco-designed active, BLUE Oléoactif®.
Created in 2005, the ITEHPEC (Inovação e Tecnologia em Higiene Pessoal, Perfumaria, e Cosméticos) Innovation Award recognizes suppliers that contribute to the Brazilian cosmetic industry through innovative new ingredients, processes or scientific claims. ITEHPEC is the innovation and technology arm of ABIHPEC, Brazil's most important and recognized personal care association. Award winners were announced at the in-cosmetics® Latin America conference in Sao Paulo on September 18th.
BLUE Oléoactif® is extracted through a patented Oléo-éco-extraction process (click here for Portuguese subtitles) from three varieties of rice (black, red and brown) with complementary phytomolecules from soybean oil. Clinical results prove that this new active ingredient maintains skin's normal physiology in the presence of environmental attacks like urban pollutants and blue light by boosting defense and repair system of cells. It acts like an invisible second skin, blocking biological mechanisms from external aggressions, and regenerates the cells to prevent premature aging.
"This recognition from ITEHPEC is especially gratifying because it highlights the substantiated wellness and cosmetic benefits of biomimetic, 100% vegetal, locally-sourced, sustainable actives," observes Anne Rossignol-Castera, Hallstar's General Manager of Oléos. "Oléo-éco-extraction technology, which we've leveraged to great effect in a diverse collection of Oléoactif ingredients (click here for Portuguese translation) enables us to transfer the biological footprint of a plant directly in a vegetable oil complex. The success of BLUE Oléoactif® is a great example of gathering the best from nature and using cutting-edge sustainable technology to harness its power."
Rice, and especially rice germ, is one of the edible raw materials with the highest nutritional value, boasting an enormous number of essential elements that are used to develop and transform itself into a young plant. Anne Rossignol-Castera is proud to point out that the creation of BLUE Oléoactif® is the first time RiziGerm® – rice germ obtained by a unique technology from the southern France region where Hallstar-Oléos is located – has been used in a cosmetic application.
Leonardo Sabedot, General Manager of Hallstar Brazil, was present at in-cosmetics Latin America to accept the prize on behalf of the company, along with R&D Scientist Rodolfo Marino. "Receiving this award was another memorable moment in a very successful in-cosmetics show for the Hallstar Beauty team," says Sabedot. "There is no question that Hallstar's global product line of functional naturals and sun care solutions, as well as our Oléos collection of cosmetic actives, is generating significant interest in the Brazilian market."